With so many different types of slings and brands available it can be hard to know where to begin. Everyone likes and fits different things, so the sling that your friend or neighbour loves might not be the right one for your family.
You often have to try a few to help find one you love. We can advise you and help narrow down your choice.
There are several types of slings –
Slings that are great for newborns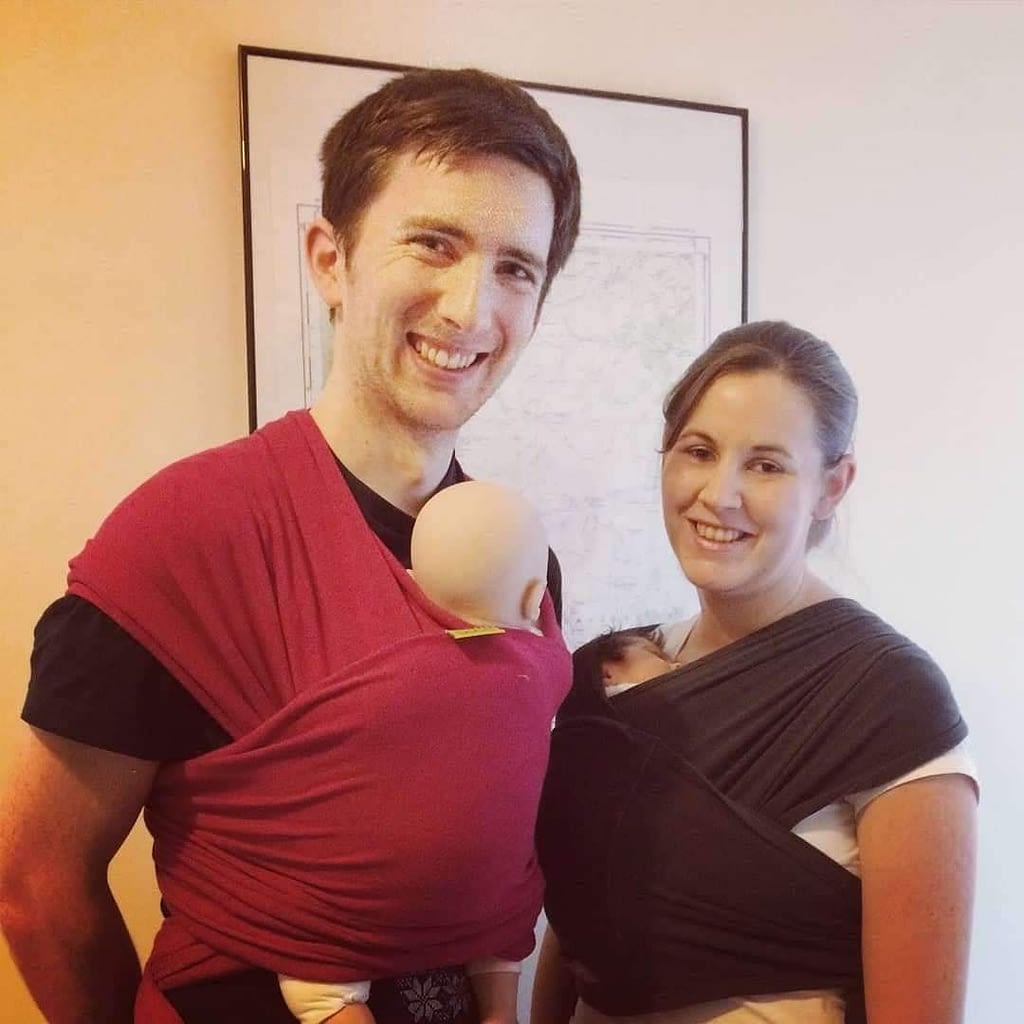 Stretchy wraps are long pieces of material which you tie around your body. You can pre-tied them and pop baby in and out, or wrap and tie them round your baby. They are soft, supportive, secure and comfortable and, therefore, are perfect for young babies. You can use them for front and hip carries. Usually they become less supportive between 6 and 12 months old and you can look at other options for older babies. Have a look at our Newborn Postal Sling Hire deal
Hyrid stretchy slings are a variation on stretchy wraps, but are sewn into fixed pieces and fastened with rings. They are soft, comfortable, great for young babies and a good option if you don't like tying a wrap. You can use them for front carries and, after around 4 months, hip carries. By 6 to 12 months they will feel less supportive and people usually move onto another type of sling. Have a look at our Newborn Postal Sling Hire deal
Slings that work for a range of ages
Woven wraps are long lengths of specially woven material which are available in a variety of blends and sizes. Strong and supportive, you tie them around yourself and baby. Wovens are incredibly versatile and, because they're so supportive, you can be use them for all ages. They can worn on your front, hip or back, and tied in a variety of ways. Because the weight distrubution can be tailored you they are incredibly comfortable. The one con is using a wrap is a skill that can take time to master.
Ring slings are long pieces of woven fabric which you wear round the body. You thread the material through the rings which sit just below your shoulder. Pop your child in the pouch of fabric and tighten the material through the rings.
Meh Dais are based on Asian style slings. They have a rectangular body of fabric with two straps to tie round your waist and a further two which go over your shoulders. These carriers are a great option if you want the closeness and comfort of a wrap but without so much fabric. You can use them on your front, hip or back, and because they mould round your body they can be very comfy.
Soft structured or buckle carriers have a panel of material similar to a Meh Dai, but are fastened with buckles that you click. There many different brands and designs you can choose from and it's always best to try before you buy and find one that suits you. These slings can be quick and easy to use and most offer front, hip and back carrying options. They vary a lot from brand to brand but most fit from newborn to toddler, with toddler and preschool options also available.