Hire a newborn sling for 2 months for just £20 – includes postage and a 15 min mini-consultation to help you use it.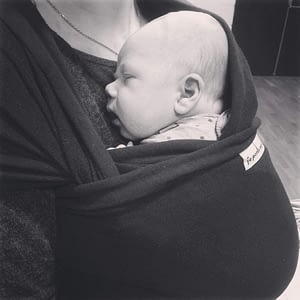 The Fourth Trimester
The fourth trimester describes the first 3 months of a newborn's life when they are adjusting to the world. Babies in the womb experience warmth, a feeling of containment, background noises, constant movement and darkness. They are continually close to someone and hear a heartbeat. Once born, the world can be an unsettling place for a newborn baby.
Using a sling can help this transition. By keeping them close you can help regulate their temperature and heart rate, and they will be comforted by your presence. As you move the constant motion mimics the womb, and offers that feeling of containment and safety.
Hire a sling for your newborn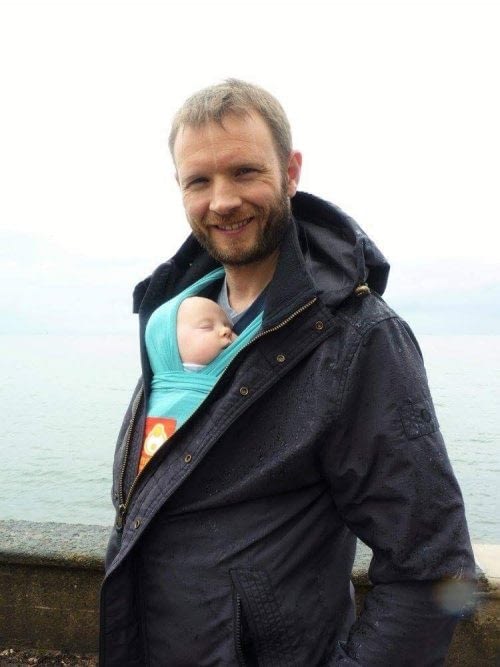 Stretchy wraps are great for young babies. They mould around your baby, are supportive and comfortable. Two-way stretchy wraps fit anyone and can be pre-tied. You can then pop baby in and out as needed.
Close Caboos are made of a similar fabric to stretchy wraps but are sewn in place so there's no need to tie anything. You tighten the sling through rings and tie a third, separate layer, over the top.
Both these slings can be used from newborn until they are no longer comfortable. This differs for everyone but can be from anywhere around 3-7 months.
If you'd prefer to try an adjustable buckle carrier you can view the options here.
Please note these are not included in the newborn sling package.
Find out more about the different types of slings and sling hire options.
Newborn Sling Hire Package
The package includes a stretchy wrap or Close Caboo on a two month hire and a 15 min mini consultation to help you with fitting – £20.
You have the option to extend the hire by £10 a month at the end of the initial hire period.
Postage to you is included in the cost of the hire. You are responsible for the postage costs to return the carrier.
A quick point about the stretchy wrap in the Scottish baby box.
The stretchy wrap in the Scottish Baby Box is a one-way stretchy, meaning that the material only stretches in one direction. This makes it less stretchy than two-way wraps and not as easy to pre-tie. If you'd like some help using your baby box sling visit Baby On Borders for more info. If you're struggling with the baby box sling it's worth trying a two-way stretchy wrap or a Close Caboo, as people often find these easier.